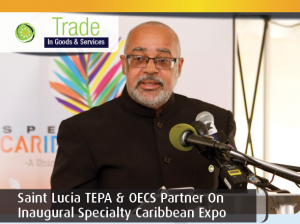 The inaugural edition of the Specialty Caribbean Expo, a multi-sectoral trade exposition, took place from March 9-12 at the Daren Sammy Cricket Ground in Gros Islet. The expo is expected to develop into a regular event, showcasing exporters from the Organisation of Eastern Caribbean States (OECS) and Martinique.
Specialty Caribbean Expo 2017 was billed as "the ultimate one-stop-shop, directly linking international buyers from worldwide corporations with Caribbean suppliers from a multitude of sectors including apparel and footwear, financial services, food and beverage, furniture, handicraft, health and wellness, tourism, printing and packaging services."
Exporters from the OECS and Martinique presented and promoted their products and services at the four-day trade show, which was attended by buyers from the United States, Canada, the United Kingdom, Cuba, CARICOM and the Eastern Caribbean.
According to TEPA, the Saint Lucia Trade Export Promotion Agency, which collaborated with the OECS to organise the event: "Specialty Caribbean Expo gives participants the opportunity to not only interact and network with each other, but also with various stakeholders, policymakers, regional/international buyers and potential customers.
"[Our] objectives include: Creating an opportunity for exporters … to obtain credible, sustainable leads [and] markets for their products and services; facilitating regional and international buyer/seller connections; forming and strengthening strategic alliances with relevant trade partners, officials and agencies; promoting and improving inter-regional trade; and identifying new distributors, suppliers and representatives for exhibitors' products or services."
In the long term, organisers are aiming to export the products and services of OECS and Martinique-based businesses under a collective brand to the UK market.
OECS Director General Dr. Didacus Jules addressed the gathering at the Opening Ceremony: "We are here for the launch of an extraordinary idea that was the brainchild of the St. Lucia Trade Export Promotion Agency (TEPA.) When Mrs. Emmanuel-Flood presented the idea of a partnership to the OECS Commission, we immediately recognised the potential of this concept – not as a single event in a single country, but as an exciting vehicle for more aggressively promoting and showcasing the export potential of the OECS.
"Only one week ago, the Eastern Caribbean Central Bank hosted an OECS Growth Forum to examine the current state of our economies and to refine an inclusive agenda for growth and development. In every such discussion, there are a few key things that stand out: • That the sustainable economic development of our countries requires a strong export sector in goods or services that will not simply create jobs but thrive through entrepreneurship and earn foreign exchange. • That our small size is a real constraint particularly with respect to manufacturing of goods and that only by aggregating capacity can we securely occupy a niche in the global market. Single island initiatives will therefore have limited reach and even less capacity to do business on a scale that really matters. (Consider that the population of the OECS member states ranges from under 6,000 in Montserrat to Martinique with almost 400,000 but collectively we aggregate to one million). • That export of services provides our best foothold in the international market and is the arena in which we are least constrained by size.
"In shaping the Growth and Development Strategy of the OECS, we are guided by these considerations, and this Expo fits perfectly into these plans. We are seeing a silent explosion of entrepreneurial energy in the OECS, particularly among youth and women, in areas such as cultural industries, agri-business, services, and design.
"The Specialty Caribbean Expo provides the opportunity to showcase the extraordinary products that are being produced to buyers who are keen to do business with us – it is intended to link producers with buyers and to be the most dynamic face to face business to business forum.
"The dynamism of the Expo is that it is also intended to be inspiration and have a demonstration effect. It is intended to cultivate a sense of possibility by showing off the best that the OECS has to offer and to further stimulate the creative and entrepreneurial energy of the people of the OECS.
"We have signed an MOU with TEPA to make the Expo a recurring mechanism for boosting manufacturing and trade promotion. The lessons of this initial episode will help us refine future editions to make them exciting to the public, attractive to buyers, imperative to producers and stimulating to our economies. We will be aligning this initiative with the employment/entrepreneurship component of our youth strategy and with the work of the OECS Competitive Business Development Unit.
Finally, perhaps the most organisationally exciting dimension of this initiative is the opportunity it provides for all of the TEPAs of the OECS to work collaboratively and present a common face to the world of commerce. The OECS Commission is pleased and committed to playing this facilitating role in building these bridges."