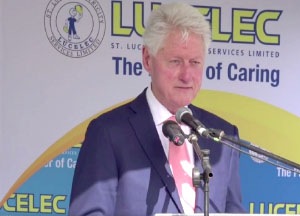 At the official opening ceremony for the 3 megawatt (MW) solar farm of the St. Lucia Electricity Services Limited (LUCELEC) in La Tourney, Vieux Fort, on Thursday 9 August, President Bill Clinton said that St Lucia could lead the way to the future.
"The Caribbean can lead in building an inclusive 21st century prosperity. This region could be completely carbon-free."
Speaking about St. Lucia specifically he said, "You took this step before most other people did. Lead the way to the future and we'll all follow waving our various flags together."
During his speech, one of the more striking moments was a vision of a catastrophic future that is all too possible. "Think how we would feel if none of our children and grandchildren were able to live in much of the Caribbean because it was under water. Think how we would feel if it started earlier because we couldn't insure places anymore so no one would build a resort… and yet here at hand, we have the means to do this."
This bleak potential future offered by the 42nd President of the United States informs his commendation of St. Lucia for being a regional pioneer in its prevention saying, "This (the opening of the plant) clearly makes St Lucia a clean energy leader in the Caribbean."
Clinton said, "I think this should be seen as the beginning of a comprehensive, determined, unrelenting effort to make St. Lucia and all the island nations of the Caribbean stronger, safer and more sustainable… The sea levels are rising, the storms are growing in intensity… Every nation knows that alone we cannot do this. This is supposed to be an era of militant nationalism, our crowd against the world… I'm proud of my country but I'm not proud when we pretend we don't have obligations to others… We live in an interdependent world. Nobody causes climate change alone, no one is raising the sea levels alone and no one will fix it alone."
Clinton posited a way forward saying, "The future lies in what I would call inclusive nationalism, be proud of who you are and where you're from and what your roots are and still know that diverse groups make better decisions than totally homogeneous one."
Clinton said that the new plant was only a beginning, "You've done something good, remarkable, worthy in its own right. You know that you can do more. The Caribbean still has about the highest electric rates in the world." Clinton spoke about how St. Lucia needs to figure out how to transition towards more economical means of energy like wind, solar and perhaps geothermal while cooperating with the utility provider in a way that makes the island more resilient so that gains are not lost in the blink of an eye.
"I hope that today will be a day which we will all be able to look back on with pride, 5 years, 10 years, 15 years from now because it was the beginning of something remarkable and enduring."
Clinton cited some examples that St. Lucia could follow: the Dominican Republic, which put up 90MW of windmills that cut their power bills by 25%; Panama, which put up 400 MW of wind power which provided 40% of power to Panama City at lower cost during a 6 months hydropower dormant stint; and Costa Rica which last year for more than 6 months operated its full economy with no carbon emissions across the entire country.
The EC$20 million St. Lucian solar farm, as per a Clinton Foundation press release, "is the first utility-scale renewable energy project on the island and is funded, owned and operated by LUCELEC. Its nearly 15,000 panels will generate approximately 7 million kWhs (or units) of electricity per year. Construction of the solar farm began in November 2017, and the solar farm began feeding the grid in April this year when the entire 3 MW of power came online. The preliminary work on the project, including the work done by the Clinton Foundation and Rocky Mountain Institute, has been made possible by the support of donors including the United Nations Development Programme, the Global Environment Facility, and the Norwegian Agency for Development Cooperation.