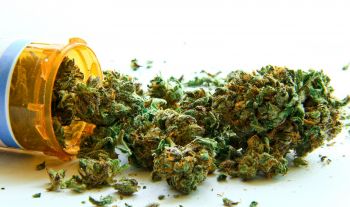 Senator Positive T. A. Nelson's medicinal marijuana bill—after being introduced in the 31st Legislature and facing seemingly insurmountable odds—was voted favourably on Friday, December 28, 2018, during the 32nd body's last session.
This marks a landmark win for the outgoing senator, who over the years has championed the legalization of medicinal marijuana as well as its recreational use.
Voting in favour of the bill were Senators Tregenza A. Roach, Sammuel Sanes, Janelle K. Sarauw, Myron D. Jackson, Dwayne M. DeGraff, Bryan A. Smith and Marvin A. Blyden.
Voting against the bill were Senators Nereida Rivera-O'Reilly, Kurt A. Vialet and Novelle E. Francis Jr. Senators Alicia "Chucky" Hansen and Janette Millin Young were absent.
Mrs Rivera-O'Reilly's stance on marijuana, which has been consistent from the beginning of hearings, did not change. She said the real intent of the bill was to legalize marijuana altogether.
She also contended that the bill violates the Organic Act, which forbids the U.S. Virgin Islands from creating law that contravenes the U.S. Constitution.
Responding to proponents who said the ship had already sailed—referring to marijuana legalization—the senator said it was not a ship she would board because it was headed "straight to hell."
Mrs Rivera-O'Reilly cited Colorado statistics gathered after the drug was legalized in the state in 2012, which showed an increase in the arrest of Latino and Black men.
For Mr Nelson, the victory on Friday was a hard-fought one, "We are at a dawning of a new day," he said during a November 27, 2018, hearing, positioning himself to be the chief proponent and defender of the implementation of the drug's medical use in the USVI.
"All of the major financial journals, media networks, economists, medical journals and societies, 33 states, Washington DC, 3 territories and 56.7 per cent of Virgin Islanders all agree with my position," he said