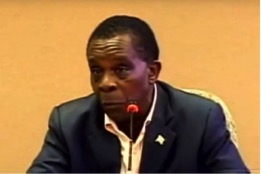 New chairman of the St. Kitts-based Eastern Caribbean Central Bank (ECCB) Monetary Council, Prime Minister of Grenada, Dr. Keith Mitchell, has announced he will be launching an inquiry into whether the region's citizenship by investment programmes (CIPs) are making it mandatory for their applicants to go through regional security due diligence, as they have committed to doing.
"There are reports circulating of some citizenship by investment applicants receiving passports without the regional body getting the data about the applicant and not conducting the relevant due diligence," Mitchell told reporters during his weekly post-cabinet briefing on July 30, according to Now Grenada.
"Despite the fact that some are saying this doesn't happen in their jurisdictions, the fact is that rumours are out there, and I told my colleagues that we have to deal with this. If it's not true, then we have to confront it. We cannot just say it's not true because the rumours are circulating. So they have mandated me to get the facts and to examine the issue," he continued.
Applicants to the Caribbean's various CIPs are supposed to get the green light from regional vetting bodies like CARICOM's Implementation Agency for Crime and Security (IMPACS) and the Joint Regional Communication Centre agency. Mitchell and the council he chairs will now be double-checking the records of these agencies against the registries of the individual programmes to see whether any discrepancies are present.
"So, if there is anyone who did not go through that process," Mitchell added, "I will know and I will confront my department if it's in Grenada. If it's in St. Kitts, we will show them that the records show that IMPACS did not have a say in it, did not give its approval, and then they should check and verify."
The question of full and effective due diligence has long been a thorny issue for Caribbean CIPs and Grenada itself has by no means been immune to controversy, especially when connected with the alleged sale of diplomatic passports.
Furthermore, according to sources in Grenada, applications for economic citizenship by North Korean nationals have been routinely approved, regardless of the fact that any individual in that country in possession of significant assets is most likely sanctioned by the US Office of Foreign Assets Control (OFAC).
While all the due diligence in the world will clearly not uncover negative information that is not yet known about an applicant, passports are nevertheless sometimes granted to individuals that even have active arrest warrants in force.
Such a case was highlighted weeks ago by the interim report on disinformation and 'fake news' by Britain's parliamentary Digital, Culture, Media and Sport Committee, which referred to a case in 2010 when citizenship consultants Henley & Partners were employed to help a Ukrainian politician, Viacheslav Suprunenko, to apply for a passport in St. Kitts and Nevis. He was at the time wanted by Interpol for assault during an armed robbery to recover documents in a business dispute.