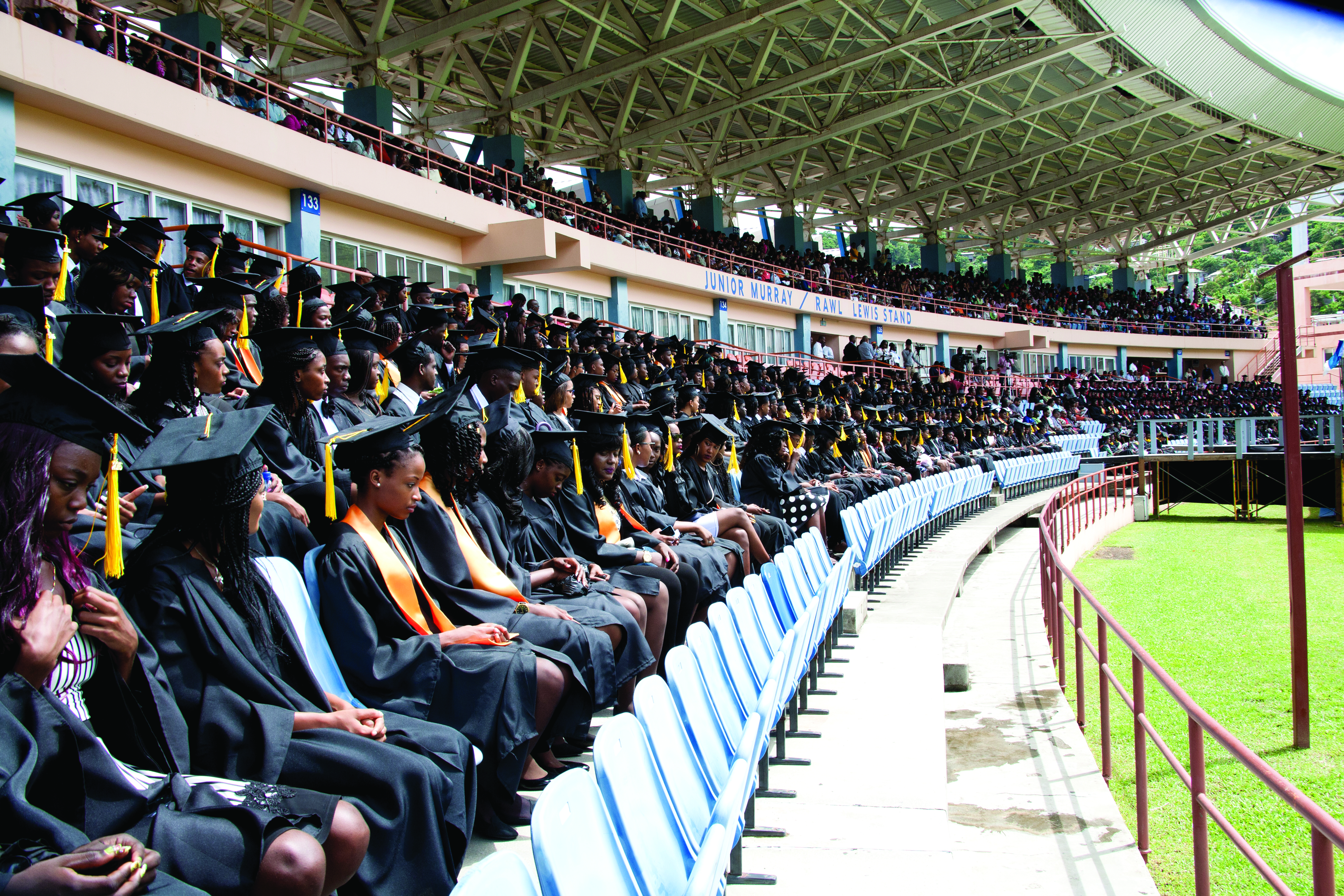 The T.A. Marryshow Community College (T.A.M.C.C.) is a publicly funded institution established to provide tertiary level training in the tri-island state of Grenada, Carriacou, and Petite Martinique. The College was established by the Government of Grenada on July 1, 1988, by a merger of a few institutions.
As a national institution benefiting from public funding, the College is dedicated to expanding and enriching educational opportunities for all citizens to enhance the overall development of the nation. This financial structure supports the existence of low tuition, making it the most affordable in the Caribbean.
T.A.M.C.C. programmes of study lead to Certificates, Associate Degrees and Baccalaureate Degrees. The programmes of the College are offered in three (3) Schools namely, the School of Arts, Sciences and Professional Studies (S.A.S.P.S.); the School of Applied Arts and Technology (S.A.A.T.); and the School of Continuing Education (S.C.E.).
The T. A. Marryshow Community College has five campuses in different locations: four (4) on the mainland and one in Carriacou.
The College has a Department of Online Distance Learning, which is presently seeking to develop new and exciting programmes to add to its existing course offerings.
The main library is found on the Tanteen campus; however, satellite libraries are located at every campus. Internet service and EBSCO research database are available to students.
The College also has a Department of Teacher Education which offers teacher training and professional development at the Pre- primary, Primary & Secondary School levels in collaboration with the University of the West Indies (U.W.I.) and the Eastern Caribbean Joint Board of Teacher Education. Other professional programmes such as General Nursing, Law Procedures, Pharmacy, Media Studies and Social Work are offered. T.A.M.C.C. is the only College within the O.E.C.S. that offers the Pharmacy Programme.
T.A.M.C.C has several highlighted Associate Degree Programmes such as the Modern Languages Programme which offers dual opportunity to sit the CAPE examinations (Spanish and French) and complete an Associate Degree. Students can study four (4) foreign languages – Spanish, French, German and Chinese – with a communicative approach. Another programme of interest is the English Associate Degree Programme; it is functionally designed to facilitate student's production of a portfolio and a written publication to include short stories, poems, drama, critical documentaries and essays.
The T. A. Marryshow Community College has further strengthened some of its programmes through extensive collaborations with external universities such as the University of the Southern Caribbean (U. S. C.) to offer a 2+2 approach to learning and achieving higher level degrees and licenses. The College offers the first two years (Associate Degree in Nutrition and Dietetics) then students can seamlessly transfer to U.S.C. (University of Southern Caribbean) to complete a Bachelor's Degree for two additional years. A further one-year Clinical internship is required to sit the Registered Dietitian Examination.
Faculty are highly-qualified, and undergo training with the assistance of Dr. Nicholas Brathwaite, Jr.'s PETNA Foundation in collaboration with McMaster University to deliver exemplary instruction. The aim is to grow and develop T.A.M.C.C. into the Premier Regional College supported by a hospitable community, a safe environment and readily available housing.
For further information, please email us at [email protected] or you can call:1(473) 440-1389 or visit our website: http://tamcc.edu.gd/.