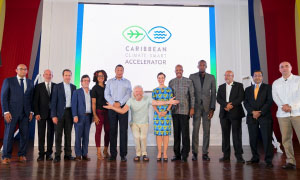 A ground-breaking partnership to support the Caribbean's ambition to become the world's first 'Climate-Smart Zone' was launched in Kingston, Jamaica on Thursday.
The Accelerator has created an unprecedented coalition including 26 countries and over 40 private and public sector partners which will implement climate solutions for resilience, renewable energy, development of sustainable cities, oceans and transportation.
This Climate-Smart Zone will not only protect the region but create jobs and a new economy in climate-smart infrastructure.
Speaking at the launch, Prime Minister of Jamaica, Andrew Holness said: "Being climate-smart means putting the people of the Caribbean at the centre of all we do – to protect them from the challenges of climate change. The Caribbean Accelerator will also encourage job creation, social inclusion and economic growth. These benefits will only come when Governments, the international community and the private sector work together to overcome barriers and generate the investment that will benefit us all. That is why I am excited by the potential of the Accelerator to join the Caribbean with global partners who share our vision to see investment grow in the years ahead."
Sir Richard Branson said: "Our goal is ambitious and bold: we are creating the world's first climate-smart zone.  We have a vision of a Caribbean which is greener, stronger and more resilient than ever before – built on innovation, powered by clean, sustainable energy and accelerated by public and private investment."
Luis Alberton Moreno, President of the Inter-American Development Bank has played a key role in bringing together a multinational coalition of public and private partners to fast track public and private investments over the next five years.
Luis Alberto Moreno the President of the Inter-American Development Bank, stated: "The IDB Group reaffirms its continued and historical commitment to the Caribbean and will work with leaders of the region to improve lives by creating climate-smart and vibrant economies, where people are safe, productive, and happy. We hope that through this Climate Smart Coalition, in addition to offering new affordable financing, we will use the IDB's extensive regional experience and presence on the ground to work closely with the people of the region to design their Caribbean of the future, today."
Caribbean institutions and agencies – including governments, CARICOM and the OECS – have already started to use the Accelerator's unique platform of public and private stakeholders to make a difference.