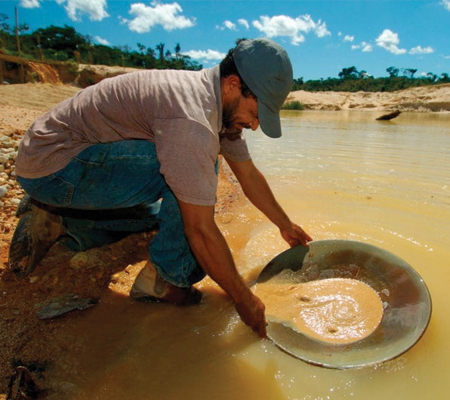 Two major projects targeting the reduction of the use of mercury in mining will soon be introduced as part of a National Action Plan (NAP) on the phasing out of mercury in Guyana's mining sector.
The Ministry of Natural Resources met this week with regulatory agencies, miners' associations and international partners to discuss the advancement of the United Nations' Minamata Convention on Mercury, which Guyana signed onto in 2013 and ratified in 2014.
During the meeting, it was disclosed that Conservational International (CI) Guyana and the World Wildlife Fund (WWF) are preparing to introduce projects which will see the reduction of dependence on the toxic element, which is used for ore separation.
CI Guyana in collaboration with the Global Environment Facility (GEF) will soon introduce the Eldorado Gold Project. The GYD$1.2 billion (US$5.7 million) project will work with artisanal and small-scale miners in Regions Eight and Nine to explore mercury-free mining by 2025 along the supply chain from prospectors to producers.
The WWF, with funding from the French Global Environment Facility (FFEM), will be working with the Guyana Geology and Mines Commissions (GGMC) to align the Minamata Convention. The GYD$804 million (US$3.8 million) project will see the demonstration of mercury-free extraction models and sharing of mercury data on a regional level.
Both projects are scheduled to be launched later this year.
The ministry has partnered with the WWF and the GGMC to draft a (NAP) which will see a phased reduction of the use of mercury in the mining sector to complete elimination by 2027 through the implementation of a phased mercury reduction strategy.
The NAP captures a number of objectives and strategies as outlined in the Minamata Convention. These include mercury use reduction, increasing the viability of small and medium scale mining, management of mercury waste, environmental assessment, contaminated sites, public health aspects and public information awareness and education.
Yesterday's meeting sought to create a working group to advance the work of the NAP and address any shortcomings in the document, Minister of Natural Resources Raphael Trotman said.
The stakeholders will be meeting again in September.
"The need to have conclusive, viable alternatives to mercury is more important than ever following health and safety concerns that arose earlier this year with unsafe emissions at the Guyana Gold Board Brickdam facilities," the government said in a statement.
That complex has since been cleaned up and mercury emissions were declared below threat levels by a PAHO/WHO team that conducted an assessment.
The government says it remains committed to ensuring sustainable mining practices in the industry.