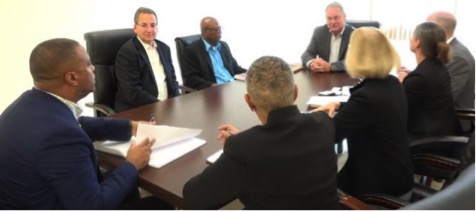 Renewable energy would remove the Nevis Island administration's (NIA) concern over increasing oil prices, Mark Brantley, Premier of Nevis, said during an Overseas Private Investment Corp. (OPIC) team meeting on July 30 at his office at Pinney's Estate.
The OPIC team is comprised of Brantley; the United States Embassy to Barbados; the Eastern Caribbean and the Organisation of American States (OECS) based in Barbados; and executive members of Nevis Renewable Energy International (NREI).
"We see oil prices creeping up again and that for us is a very, very real concern because it means that our economic fortunes continue to be tied to circumstances that . . . we cannot control," the Premier explained.
"With geothermal, I think, we can lock ourselves in for 25 years, 30 years as the case might be, to a fixed price," Brantley added. "A price that we know and it would help immeasurably in helping us to plan and determine where we are going in terms of our economy.
"NIA believes the island could be the first to truly say it is entirely green and has weaned itself off fossil fuels for electricity generation. We feel it is a game changer, particularly because the science is suggesting to us that we have far more geothermal energy than we can use and if that is the case, then it means that it augers well for our future expansion, the growth of our economy, that we can be self-reliant and self-sufficient in so far as energy is concerned. But it also means, of course, that we have potentially the prospect of export of energy."
Brantley noted that diversifying the economy for Small Island Developing States (SIDS) that are not blessed with a vast array of assets is difficult. However, Nevis is blessed with geothermal energy and the administration intends to exploit it to revolutionise the island's economy.
He said the NIA is working closely with the NREI, whom they have contracted to harness the island's geothermal energy.
Meanwhile, the Premier expressed gratitude to the United States for its assistance with the project so far, a partnership he believes, should also serve as a model between the US and the SIDS on other issues.
"We think it could be a model of US cooperation and involvement in Small Island Developing States," the Premier said. "We talk a lot about renewable energy. We talk a lot about mitigating the consequences of climate change and the increasing ferocity of storms and the like. I think this is a concrete example of the partnership and so, I wanted to publicly thank the United States."
The OPIC delegation was led by Marlena S. Hurley, Director, Political Risk Insurance & Reinsurance Structured Finance; Nicole D. Soulanille, Insurance Department Assistant General Counsel; and Christopher M. Ausdenmoore, Political/Economic Officer at the US Embassy in Barbados. They were on a three-day fact-finding mission to Nevis at the invitation of NREI, ahead of the construction phase of the geothermal project.
While on the island, they met with officials of the Nevis Electricity Company Limited, NIA and other stakeholders, including the Four Season Resort, Nevis.
Also present at the meeting were Hélène Ann Lewis, Legal Adviser to the NIA; Nevis Renewable Energy International members; THERMAL Energy Partners executives Daniel Pfeffer, President, Bruce Cutright, Chief Executive Officer, and Mackie Tross, local representative.