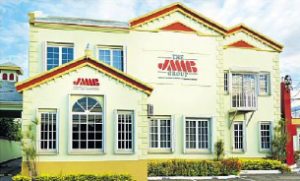 Regional financial entity, JMMB Group, has recorded 56 per cent growth in its net profit, year-over-year, totalling J$956.6 million, for the three-month period ending June 30. Additionally, the Group posted net operating revenue of J$4.7 billion, which reflects an increase of 15 per cent, compared to the corresponding period in 2017.
The Group's performance was largely driven by growth in its core business operations, namely: foreign exchange trading gains; fees and commission income; net interest income; and net gains on securities trading.
Foreign exchange trading gains saw a significant increase of J$277.1 million, or 117 per cent, amounting to J$514.6 million, as a result of increased trading activity and the faster pace of depreciation of the Jamaican dollar, over the period. Fees and commission income totalled J$481.6 million, an increase of 32 per cent, over the corresponding prior period, driven by significant growth in managed funds and collective investment schemes, across the Group.
Net interest income for the reporting period stood at approximately J$2.1 billion, reflecting growth of 8 per cent, or J$155.9 million, in the Group's loan and investment portfolios.
Additionally, net gains on securities traded, showed a marginal increase of 4 per cent, compared to the prior period, totaling J$1.6 billion, due to a decline in trading activities caused from the frequency of US Federal rate increases.
Keith Duncan, JMMB Group CEO, said the positive performance achieved by the company reflects its commitment to build-out of its integrated regional financial strategy, even as the entity has intensified the consolidation and growth phases of its business model.
Duncan said: "I am proud of the Group's performance over the first quarter, which would not have been possible without a strong and motivated team, who has worked hard in yielding positive results and remained committed to providing financial solutions, in the best interest of our clients."
He added: "We look forward to the process of leveraging strategic synergies and improving operational efficiency, during the strategic period. Meanwhile, the JMMB Group is also looking to introduce innovative financial offerings across the markets in which it operates in order to drive growth, assist individuals to achieve their goals and support business expansion and growth; providing a win-win opportunity for all our stakeholders, through our financial partnership approach.
"As part of the growth focus JMMB Group is seeking to launch consumer financing service in Trinidad and Tobago and to expand the provision of automated teller machine (ATM) services in Jamaica." ¤